Why macon-music.com?
I'm Paul Thomas. I played keyboards for several years in and around Macon, GA with many different groups.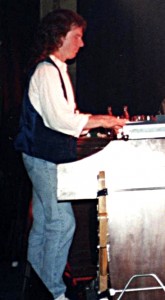 I recently undertook a large project, transferring many of my old VHS and 8mm tapes to digital, and clipping the videos into smaller bite-size clips. Some of these tapes have footage of me or people I know playing, and most of it was in Macon.
I've never lived in Macon, but that's where I consider my musical home to be. That's where the best playing took place, by the best players I've ever played with.
I decided to set up macon-music.com so that I can have a place online specifically for sharing the band materials I've collected over the years.
I invite anyone to contribute any footage, materials, or stories you have.
This is time-consuming stuff. I hope that something good will come of it. Peoples' addiction to that site with face and book in its name is tough competition. :-O
I guess we'll see. In the meantime, enjoy the videos and music and pictures. There's more to come.
– Paul
28 November, 2010